When Hard Work is Not Enough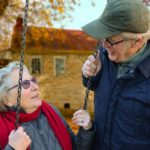 My wife and I had the best intentions when we bought a house at foreclosure in 2008. We gutted it and did a total remodel. Our goal was to do a refinance, bringing the mortgage and other debts down to something more affordable for us. But, then the recession hit, and we were not able to refinance anything.
At the end 2009, I left my position at a local church. Fortunately, I received a severance package including salary, housing, and benefits for the entire year of 2010. My wife was working part time for a local school district, managing the lunch room at an elementary school. But I had a hard time finding another job in 2010 and 2011.
We knew we were getting to the point where we would not be able to pay the mortgage. So, I called our bank several times. One of the big ones! But, they would not help us because we were not yet in arrears. Here we were trying to be proactive, and no one wanted to talk to us!
Then we found our way to a housing counselor who was able to help us get a loan modification. This took two plus years, every minute of which we were on the financial edge, just barely making it. It was a living hell! But we never gave up! And it looked like we were going to be okay. I had just begun a job working with teens and kids on the Kitsap Peninsula. I loved the job. But the commute was eating us alive. Aside from the time it took – it was fifty miles one way; the gas costs and
bridge tolls were just too much. We began to fall further and further behind, relying on our credit cards just to get by. We were once again in danger of defaulting on our mortgage, losing our loan modification, and the house we had worked so hard to save. Our debt grew and grew because income was simply not enough to cover expenses. It was a combination of everything weighing us down, and finances were so stinking tight! So, we reached out for help again and found Nathan and the NWCLC staff.
We have been married for thirty-one years. We never dreamed of filing bankruptcy. It felt like crap! But, Nathan was up front with us from the beginning. He understood that this happens to hard working people when the economy falls apart. He said the bankruptcy laws were there to give folks like us a second chance. From the beginning, we were treated with respect and he worked with us to explore our options.
Our bankruptcy closed in June and I had one week until I started my new job working with kids and teens near Tacoma. We do not have any insurance, but I have full time hours and a reasonable commute. And I feel that my gifts and talents are being utilized.
We are approaching our sixties. We have three grandsons who are seven, two, and one. It is time to think about retirement, but we do not see that happening soon. My ultimate goal is to have a full time position with benefits. But, for the time being, I think we will be alright. We can breathe again. Thanks to Nathan and all the folks at NWCLC!