Managing Payments and Exploring Options For Borrowers in 2023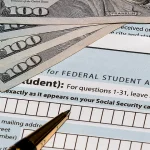 The federal government paused student loan payments and interest accrual on federal loans in March 2020, but that pause is set to expire this fall, with interest accrual starting September 1st and payments resuming October 1st. Throughout the payment pause, it is possible that your loans were transferred to a new loan servicer (or you may simply have forgotten who your loan servicer may be). Fortunately, finding out which servicer is currently responsible for your loans is an easy process. First, you'll need to log into your studentaid.gov account. Once you've logged in, you should be brought to your Dashboard, and on the right-hand side of the screen, under "My Loan Servicer," you'll see the company responsible for servicing your student loans as well as a link to the servicer's website.
In addition to locating your loan servicer, the Dashboard holds a wealth of information. For example, the Loan Simulator, located under the Quick Links section, is a tool you can use to estimate loan payments and can recommend ways to lower your monthly payment or pay off your loans sooner. The Dashboard will also display the total amount of funds borrowed as well as the total interest that has accumulated. By clicking the "View Details" on your Dashboard, you'll be able to see a more detailed description of your loans by type (such as subsidized and unsubsidized) and school. This page will also show the interest rate for each type of loan. Furthermore, all this information should be available on your individual servicer's website.
Many borrowers me be feeling apprehensive about their loan payments starting up again soon, but there are options to consider for those feeling this way. First, borrowers should look into an Income Driven Repayment Plan, which takes one's income level and family size into account to find an affordable monthly payment. This option should prove useful to anyone who needed to switch jobs over the last three years or whose family has grown. Second, is the Public Service Loan Forgiveness Program. This program is focused on borrowers who work in public service in federal, state, tribal, or local government, or for a non-profit organization. These borrowers may be eligible for loan forgiveness after making 120 monthly payments but know that enrollment in the program is required.
If you have any questions or concerns about restarting your student loan payments, assistance can be provided by your individual loan servicer or the Federal Student Aid Office, which can be found at https://studentaid.gov/.